Electro City
OVERVIEW
ELECTRO CITY is a dynamic rhythmic sequencing and effects engine accompanied by a world-class loop library — perfect for all styles of electronic music production. Powered by Native Instruments' industry-standard KONTAKT PLAYER platform, ELECTRO CITY generates grooves that define the future of electronic music and redefine how rhythmic beats and melodic loops are produced. By harnessing the power and flexibility of Sample Logic's RHYTHMOLOGY engine, ELECTRO CITY will energize your sound, transporting it to the next level! ELECTRO CITY possesses limitless creativity, fusing together all things cinematic, synth, industrial, trap, house, dubstep, EDM, trance, techno, breakbeat, and much more. Literally, thousands of loops and presets are paired up with an audio engine that defies definition, making ELECTRO CITY the last loop player and groove engine anyone will ever need for producing electronic music.
AT A GLANCE
Over 1,800 sound presets, with a limitless number of combinations
Four loop core engine
Hot-swappable effects chain technology
Fully "randomizable" interface for instant inspiration
Dozens of customizable effects presets
Native Instruments' NKS® and MASCHINE ready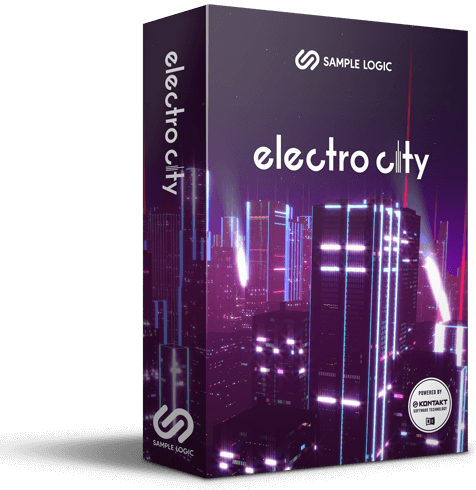 If you're a Dj looking to start producing your own music and you don't necessarily play an instrument or know a lot about music theory Electro City is a dream come true.
Electro City is instantly customizable and sounds great right out of the box. No joke – I developed a sound in about five minutes and it became the inspiration for an entire cue today.
Electro City is one of the deepest and most versatile beat makers I've ever used. There are a ton of great sounding loops in this thing that you can layer and process to create endless unique rhythms. It's a great composer tool because the interface is so intuitive. If I'm under a serious deadline I can quickly build something that sounds awesome, or if I have some time to play I can dig deep and fine tune all night long. A truly fantastic tool for musical inspiration and creation.
Within minutes after first starting to play Electro City I was inspired to make use of it in some of my wild and crazy PROG! I was able to quickly perform the grooves in all kinds of odd meters which allowed me to create my very own blissed out modern Prog Electronica!!
Ridiculously hard-hitting sound quality, a very deep collection of sound sources, and bottomless control possibilities. ELECTRO CITY has got a great mix of retro synth action smashed through some very late-model sonic manipulation. Not just for the EDM crowd, ELECTRO CITY's engine can easily be tweaked to provide dark cinematic pulses and dirty cyber drums, great for giving a modern sheen to scoring and trailer work.
ELECTRO CITY gives you all the building blocks to create contemporary music, then gives you all the tools to reinvent it
The possibilities for creating cool rhythmic grooves are endless with ELECTRO CITY…its a tool that producers and composers can use across a multitude of genres…really nice job!