Expeditions
OVERVIEW
THE MOST DIVERSE COLLECTION OF CINEMATIC & WORLD PERFORMANCES.
EXPEDITIONS is a dynamic rhythmic sequencing and effects engine accompanied by a top-notch collection of eclectic cinematic and world loops, perfect for all styles of music production. By harnessing the power and flexibility of a 4-core loop engine, EXPEDITIONS possesses limitless creativity that is sure to transport your music around the world and beyond. These diverse loops span the entire globe from Africa, Asia, Europe, to America and Latin America. Genres include Acoustic, Melodic, Synthetic, Orchestral, Hybrid, Industrial and many more. Each loop has been hand crafted from the finest recordings of live performers courtesy of months of production by the visionary Sample Logic team in collaboration with renowned producers at Black Octopus, Loopmasters, Prime Loops and ThaLoops.com. All this to bring you the utmost in sample quality, authenticity and variety.
AT A GLANCE
Over 800 presets and 965 loops with a limitless number of combinations
4-core loop engine
Hot-swappable effects chain technology
Fully randomizable interface for instant inspiration
Dozens of customizable effects presets
Native Instruments'NKS® ready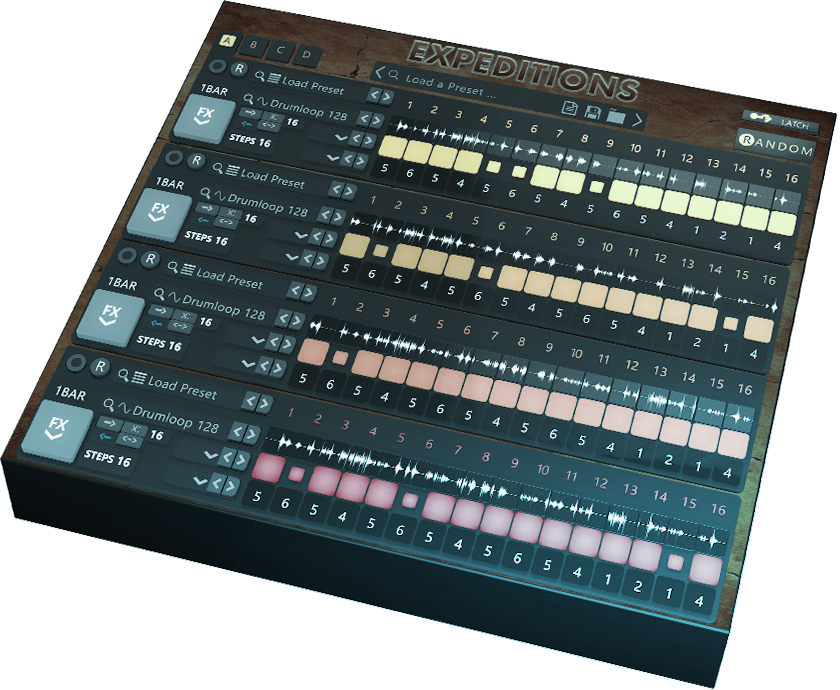 EXPEDITIONS is another chunk of awesome from Sample Logic. Super hi-fi sound sources that lie somewhere between electro and ethnic, with a user interface that will let you get absolutely mental if you want to. Great for getting that heavily-processed yet still organically-based feel, right on target for modern scoring situations. Nice!
Sample Logic have one of the coolest new instruments I've seen in a long time with EXPEDITIONS. It takes the richness of (exquisitely recorded) world music and gives it an unexpectedly contemporary twist. This is a whole new category of sample instrument in my mind. I can't believe how useful this thing is!
Expeditions is amazing. It gives you the ability to chop up and affect pristine loops without limits, allowing your creativity to be your own masterpiece. This one is hot!
An adventurous and eclectic grab-bag of concise, modern looped ideas in Sample Logic's intuitive interface.. EXPEDITIONS packs in a surprising number of interesting live phrases mixed in with up-to-date drum and synth programming, each patch a well produced starting point to inspire..
EXPEDITIONS has a pristine collection of organic and authentic world music loops and samples, and with Sample Logic's built in rhythm engine and user interface, producers can arrange these recordings to create a whole new approach to world music. I'll be sure to be implementing this release into my workflow no matter what the project!
The first thing you immediately notice is how easy the GUI is to use and navigate. The sound elements are stunningly recorded and lend themselves to an unbelievable array of manipulations. EXPEDITIONS is a must in any serious composer's arsenal for rhythmic texturing.