Map at a glance
One of a kind collaboration between SAMPLE LOGIC & SOUNDIRON
6,000+ hand crafted sounds & instrument presets
13,800+ samples weighing  5+GB (samples are delivered at 44.1kHz / 24-bit)
Dynamic "all-in-one" tag-based preset browsing system all within the UI
Proprietary 4-core Step Animator & Hot-swappable dynamic FX engine
Entirely "randomizable" performance engine for instant and infinite inspiration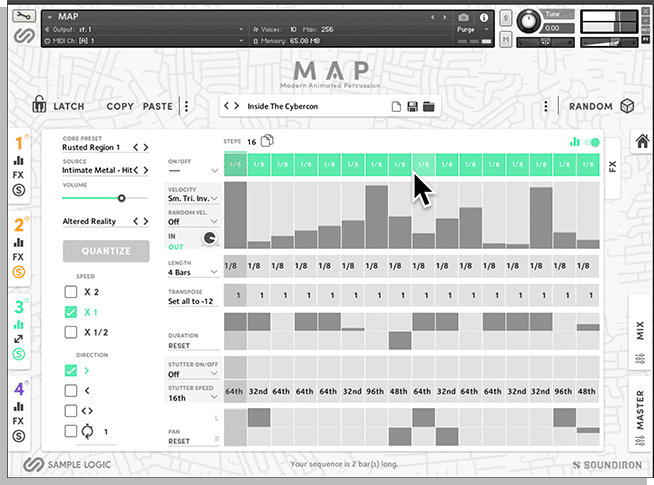 As per usual, Sample Logic have come up with a killer piece of software that would fit into a composer's library sweetly… The sound quality is excellent, and I was really impressed with the 'Random' functionality.
JORDAN RUDESS
Keyboardist for Dream Theater
Within minutes of experimenting with MAP, I was deep into a rhythmic sonic journey unlike anything I've experienced before. What a fantastic, flexible environment for Creation.. I'm inspired!!
MARK ISHAM
Argo, Blade, Crash, Warrior, The Conjuring, Cloak & Dagger
After giving MAP a serious workout and adding it to several film and TV templates – how did we get by without this instrument before?? It's the perfect high end rhythmic compliment to Drum Fury. I'm particularly in love with the pseudo-ethnic sounds in here. They are providing the perfect colors I need for a project about man vs. nature, and the speed with which I can get from blank session to something entirely unique was impressive. The interface made getting from A to B a breeze. Highly recommended.
TOM SALTA
Killer Instinct, HALO: Combat Evolved, Ghost Recon Advanced Warfare
MAP is one the most inviting percussion loop/loop creation libraries I've ever used. It's addictively easy to come up with an endless number of customized variations or even brand new random loops that I can easily save to my own library. I also love the intuitive way I can isolate the various layers of each loop…it makes everything MUCH more flexible and usable in a variety of situations. Bravo!
JESPER KYD
Assassin's Creed II, State Of Decay 2
MAP has an amazing amount of things to tweak, which means you can customize everything to fit your music perfectly.
RAMIN DJAWADI
Game of Thrones
Modern Animated Percussion takes a pristine and colorful palette of percussive elements and twists them into an evocative rhythm machine. The interface is packed with tools for sculpting a signature sound. MAP is both inspiring and powerful, an exciting take on contemporary grooves.
BILL BROWN
CSI: NY, Wolfwnstein
Sample Logic's Modern Animated Percussion holds up to it's name.. Modern, organic recordings sequenced in animated, fun rhythms. I'd pull this up for an animated chase scene, or even to use the separate elements in other styles.. Lots of quick edit options are available to tweak the arps, effects, etc. And definitely try the Randomizer, some fun 'happy accidents' can happen…
DAVID BUCKLEY
Jason Bourne, The Town, The Good Guys, Call Of Duty: Ghosts
MAP is a seriously deep percussion library. It's so deep that you can get wonderfully lost inside the vast array of sounds and presets with which it comes. What's particularly great about this library is that everything is derived from multisamples. You are then given a great and totally usable starting point with the presets, but really, you can take things in any direction you desire if you want to get your hands dirty. There are plenty of percussion libraries out there, but this one is already feeling pretty special, and I can see myself getting a lot out of it.
GARY ROTTGER
Songwriter, Keyboardist, Arranger, Producer
Super Cool and incredibly useful. Play the full mix or separate tracks. Works great with Drum Fury. This is the "percussive glue" you need in your compositions. Loving it!
TREVOR MORRIS
2 time EMMY award winning composer
Modern Animated Percussion just simply puts a smile on my face. I love the instant movement and motion, and the almost immediate rhythmic inspiration is brings. And importantly for me, ease of operation to customize things quickly. Into the Palette it goes.
JOHN DEBNEY
The Jungle Book, The Greatest Showman, Iron Man 2
A world of textures, rhythms and colors all elegantly packed into five keys! MAP is perfect for so many genres of music and it's modular structure makes the technology transparent and leaves me with just inspiration and creativity. Love it!
JEFF RONA
Brotherhood, God of War III, The Mothman Prophecies, Traffic
This instrument is remarkable. It provides incredible control over constructing all kinds of rhythmic ideas. The step animator and fx engine streamline the creative process for very cool custom grooves. Not to mention it sounds amazing!
CHARLIE CLOUSER
Composer for SAW franchise, former member of Nine Inch Nails, Remixer for David Bowie, Rob Zombie, Killing Joke, Helmet, Marilyn Manson, Jamiroquai, White Zombie, and many other artists
With MAP I've got a very deep step-sequencing environment for rhythmic experimentation, and a sound palette that's extremely hi-fi, wide, crisp, and punchy. Everything from gently humanized acoustic percussion to glitched-out hi-tech insanity is possible, and with more than 13,000 core samples and such a sophisticated sequencer it's fertile ground for growing percussive landscapes.
RICHARD JACQUES
Mass Effect, James Bond 007: Blood Stone, Little Big Planet 2
It feels like I have waited forever for someone to make this product. Modern Animated Percussion does EXACTLY what I need it to. Now it is firmly in my template on my current scoring assignment. This product is an 11 out of 10.