Rhythmology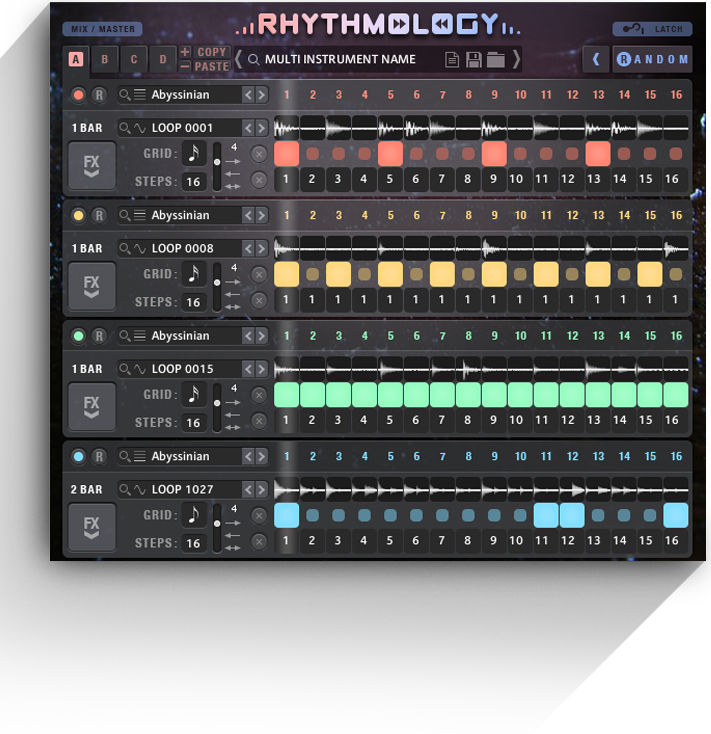 REINVENTING THE WORLD OF RHYTHM!
RHYTHMOLOGY is a game-changing, dynamic rhythmic sequencing and effects engine accompanied by a world-class loop library — perfect for all styles of music production. Powered by Native Instruments' industry-standard KONTAKT PLAYER platform.
AT A GLANCE
Over 1,800 sound presets (unlimited combinations)
Four loop core engine
Hot-swappable effects chain technology
Fully "randomizable" interface for instant inspiration
Dozens of customizable effects presets
Native Instruments Komplete Kontrol and Maschine ready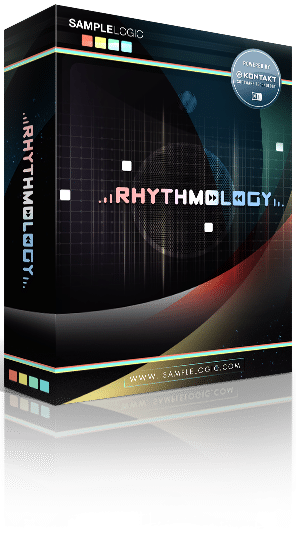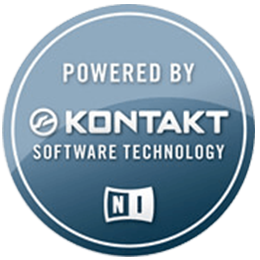 POWERED BY
KONTAKT PLAYER
The

Pages
MAIN PAGE
For a quick overview of the four Loops.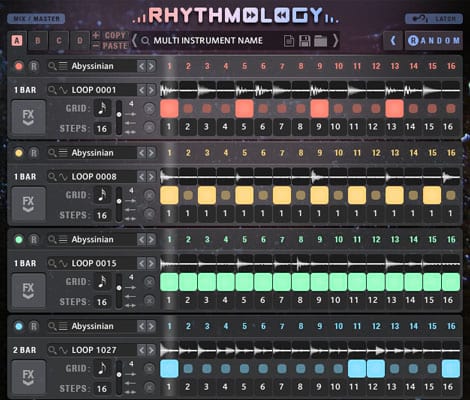 FX PAGE
Here you can edit the effect chain of a Loop.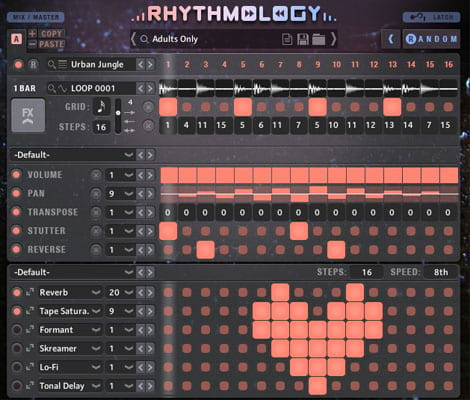 MIX / MASTER PAGE
For the final sound you have a mix engine and a master effect chain.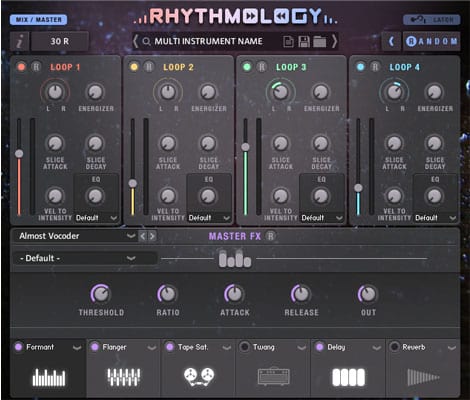 THE BROWSER
Find exactly the sound you want.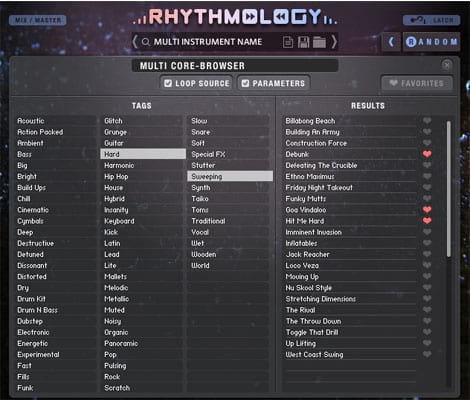 Cris Velasco
Cris Velasco – Gods Of War, Mass Effect, Assassin's Creed
RHYTHMOLOY is going to become my latest go-to library for getting a solid foundation built on a cue. I love how I can mix and match so many rhythmic ideas to create something new, even accidentally, that I wouldn't have thought of without it. When I'm on a tight deadline, it's inspiration like this that can really help me out.
The Crystal Method
The Crystal Method – Platinum Selling Electronic Music Duo
RHYTHMOLOGY is a beast! Massively creative and the sound quality is superb.
Charlie Clouser
Charlie Clouser – composer, SAW film franchise, Wayward Pines, etc.
RHYTHMOLOGY is another monster from Sample Logic, with a massive collection of super hi-fi sample content and so many ways to modify, mutate, and just absolutely wreck the joint. With huge, solid sub-bass and crispy highs, it's got a cutting-edge sound that is very fresh and up-to-the-minute. It's a great tool for everyone from modern pop and hiphop producers to film composers looking to add some high-tech elements to their score. Nicely done!
John Debney
John Debney – STAR TREK, SIN CITY, IRON MAN 2
RHYTHMOLOGY is spectacular. There is a huge need for tools like the ones Sample Logic creates and Rhythmology is in a class all it's own. Crazy possibilities and a a huge innovation.
Grandmaster Flash
Grandmaster Flash – Father of Hiphop DJing, cutting, and mixing
In my years as a Inventor/Dj/Producer sampling played a KEY role in our productions –but the people at Sample Logic took Sampling to a whole new level. I especially like the feature of being able to divide the sounds and loops into 16 different segments then switch all the sounds to different outputs — I'm just gettin into it pretty cool
Benjamin Pinkerton
Benjamin Pinkerton – LOST GIRL, DARK MATTER
Its so easy to make great music with Sample Logic's RHYTHMOLOGY. The library is a treasure trove of inspiring sounds and grooves.
Tom Salta
Tom Salta – Ghost Recon, Halo: The Fall of Reach, Killer Instinct, Need For Speed
FINALLY! A brand new inspiration packed powerhouse of rhythms and creative rhythm based material that will yield tons of fresh ideas. Easy to navigate and find what I'm looking for. I foresee some late nights going through all these amazing sounds. Well done Sample Logic!
James Sizemore
James Sizemore – The Hobbit, Hugo, Spotlight
RHYTHMOLOGY provides a new approach to rhythm, allowing you to combine mixed meters to create really unique pulse based music. This release brings step sequencing up to a whole new level
Bill Brown
Bill Brown – CSI:NY, Dominion S2, Captain America: Super Soldier.
Having a blast writing with RHYTHMOLOGY! The loops are diverse, well recorded and easy to use with a nice array of on board effects to choose from. The electronic grooves are modern and well crafted. The live percussion, nicely played and orchestrated.. and so many to choose from! Can't wait to share the demo with you..
Steve Jablonsky
Steve Jablonsky – Transformers, Deepwater Horizon, The Island
RHYTHMOLOGY is easily one of the best rhythm generators I've ever used. It has a ton of great sounding drum and synth loops but the real beauty is the interface. I'm not sure I've seen an easier to use interface for building rhythms. It allows you to play and tweak multiple loops simultaneously. …..that I will be using a lot.
FOR CURRENT RHYTHMOLOGY OWNERS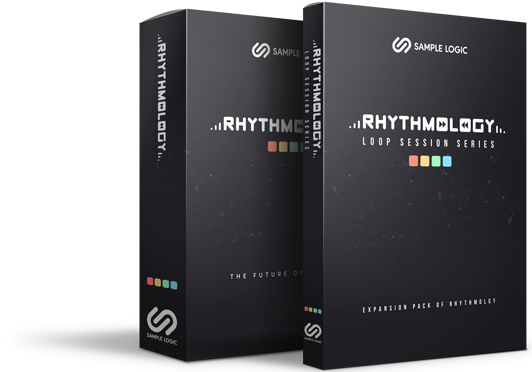 LOOP SESSIONS SERIES – CROSSGRADE
BUNDLE PRICING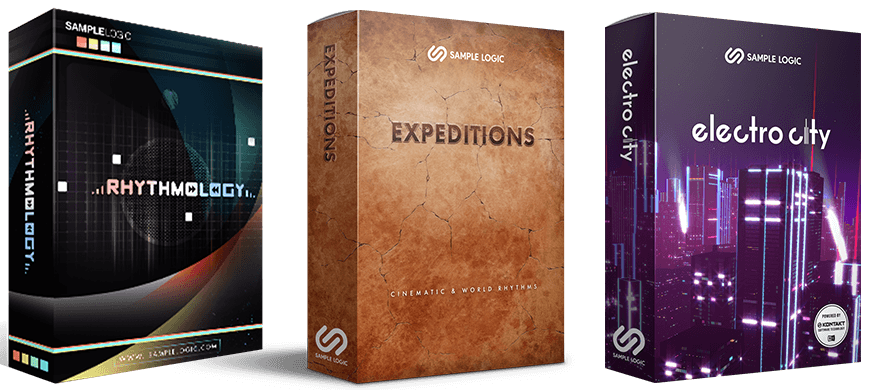 BUY 2 GET 1 FREE