XOSPHERE
The Most Powerful Atmosphere Creation Tool Ever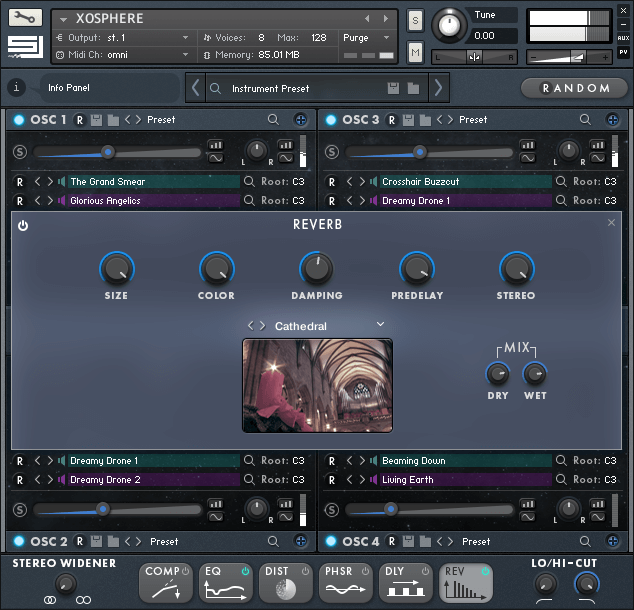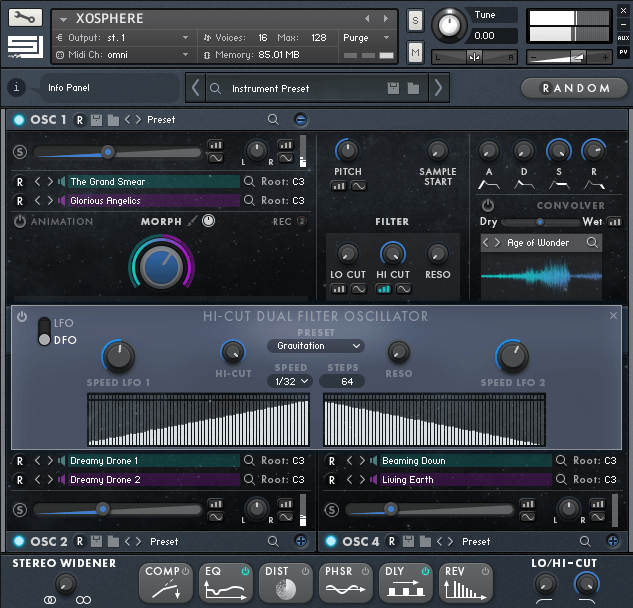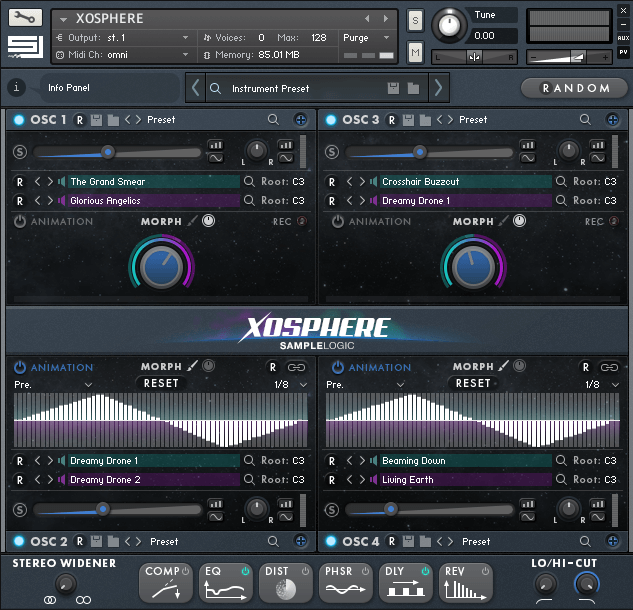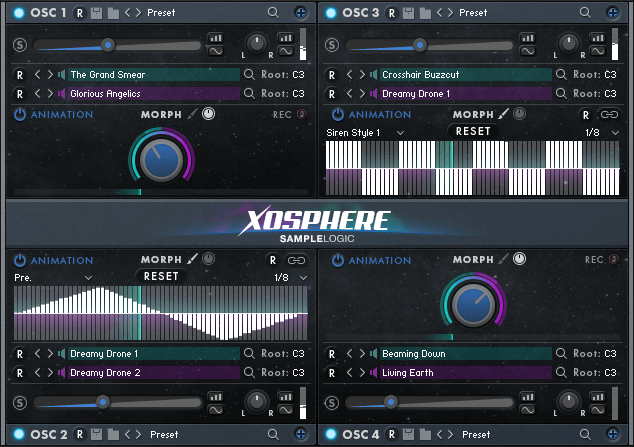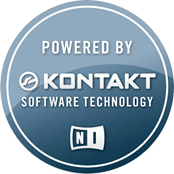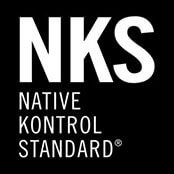 XOSPHERE features
XOSPHERE is not only a creative sound sculpting tool, it is packed with inspiring sample content.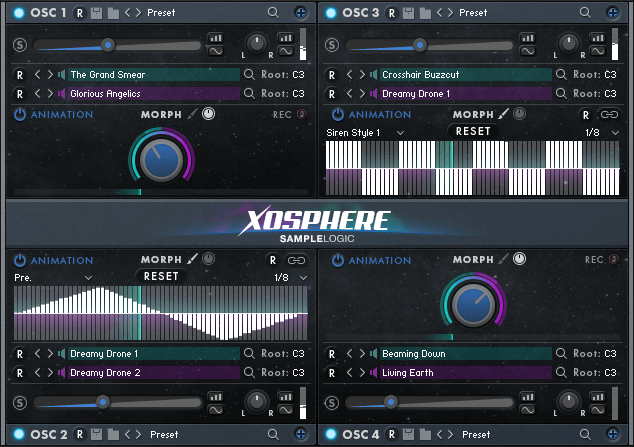 Atmospheres That Are Simply Amazing
XOSPHERE is not only a creative sound sculpting tool, it is packed with inspiring sample content. The sample-based atmospheres have been meticulously crafted using various psychoacoustic sampling techniques. Sample Logic has raised the standard of organic synthesis by morphing real world and synthetic sounds into the finest Atmospheres on the market. Not only do they sound fantastic, but they cover cinematic, electronic, and organic music genres, perfect for any music production. Breathe life into your music with the evocative atmospheric categories included in XOSPHERE. Categories include:
Bizarre
Dark N Scary
Electronic - Effectual
Euphoric - Spiritual
Mixed Emotions
Mysterious
World Organic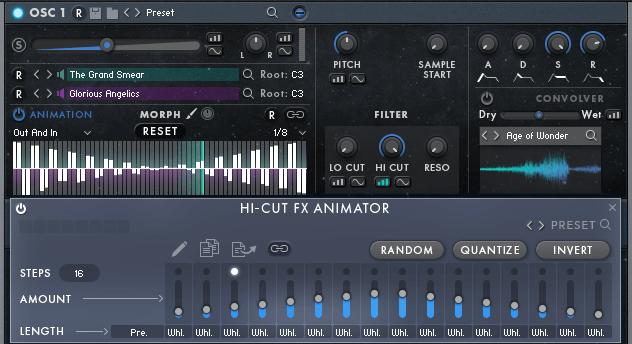 So How Many Sounds, Morph Modules Oscillators, and Instruments Are There?
350+ Atmospheres
2 Atmospheres per Morph Module Oscillator with 100,000+ possible combinations of atmospheres per oscillator
275 Morph Module Oscillator factory presets
4 Morph Module Oscillators per instrument
275+ Factory instrument presets containing a mixture of 2-4 oscillators per instrument preset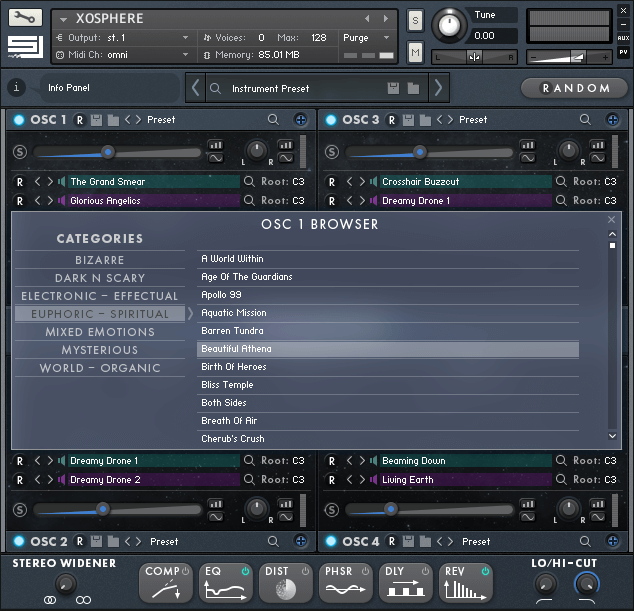 Intelligent Randomization
Want to easily make your own atmosphere in less than a second? You can take advantage of the user assignable random feature that will keep your creative juices flowing all day. The following features can be randomized:
Each atmosphere (2 atmospheres per morph module)
Morph Animator sequences (1 per morph module)
Morph Module Oscillator parameters (1 for each of the 4 oscillators)
XOSPHERE
The Most Powerful Atmosphere Creation Tool Ever
After years of honing the art of atmosphere creation, Sample Logic now brings you the most powerful atmosphere creation tool ever invented - XOSPHERE. Inspired by the principles of synthesis and sampling, XOSPHERE redefines how atmospheres are designed, implemented, and morphed to fit all genres of music and sound design. This product provides advanced tools to simultaneously morph up to 8 unique atmospheres running through 4 morph module oscillators. At the heart of this is Sample Logic's newest inventions, the Morph Knob and Morph Animator, which allow for seamless morphing between 2 atmospheres. Building upon the great success of the Step Animator and FX Animator from ARPOLOGY and CINEMATIC KEYS, this new user interface is Sample Logic's most progressive design yet. Combining animation with psychoacoustic sampling and hybrid synthesis, XOSPHERE is the last atmosphere tool you will ever need.
Advanced Tools With Massive Power
Employing Sample Logic's advanced randomizer function, more than 100,000 combinations of atmospheres can be created per Morph Module Oscillator, with up to 4 oscillators per instrument, and that's before adding the numerous custom FX modules that come with the interface. In addition to the extremely powerful XOSPHERE engine, Sample Logic has introduced several dynamic, real-time preset browsers for choosing atmospheres, oscillators, and instrument presets. What happens when you put all of this together? Totally custom-crafted, unique, and original soundscapes that are full of organic life and motion, which are perfect for setting the tone of any composition or production. Before you know it, you'll be transported to a whole new world of sonic possibilities while you morph between atmospheres effortlessly and endlessly.
The Interface: Unique, Interactive, & Intuitive
Each morph module oscillator is powered by 2 sample-based atmospheres, each of which are user assignable and can be morphed manually with the Morph Knob or animated via the Morph Animator. Don't know where to start or what to create? No problem! The dynamic built-in browser for each morph module oscillator makes searching for presets and atmospheres simple. Whether using 1 or all 4 oscillators, there's no limit to what can be accomplished. In addition, each morph module oscillator has independent sound sculpting parameters and effect tools. This includes a fantastic set of FX Animators for automating various parameters. Perhaps the most exciting feature is the inclusion of a Dual Filter Oscillator that modulates the hi-cut filter of each morph module oscillator, generating creative and complex rhythms by animating two hi-cut filters at different speeds.
Real Time Effects
Each Morph Module Oscillator is equipped with the following tweak-able effects:
Volume
Pan
Adjustable Root Note Placement per atmosphere
Morph Knob / Animator
Sample Start
Pitch
ADSR
Filter
Convolver
Each Instrument is equipped with Master Effects that affect all Morph Module Oscillators:
Compressor
EQ
Distortion
Phaser
Delay
Reverb
Warping Beyond the Sound with Convolver
Each morph module oscillator contains a collection of warp-able convolution presets to feed the atmospheres through. Convolver will take your sounds even further into a new dimension.
Tech Specs
Over 350 Atmospheres delivered at 44.1k/24-bit.
5.25 GB sample library using Kontakt's lossless sample storage compression
Requires Kontakt 5 Player (free) or Kontakt 5 (sold separately) Version 5.5 or higher
Mac OS X 10.9, or higher, Intel Core 2 Duo, 4 GB RAM (6GB recommended)
Windows 7, 8, or 10 (latest Service Pack, 32/64 Bit), Intel Core 2 Duo or AMD AthlonTM 64 X2, 4 GB RAM (6GB recommended)
5.25 GB free disk space for XOSPHERE sample content
1 GB free disk space for Kontakt 5 Player
WHAT THE PROS SAY ABOUT XOSPHERE
XOSPHERE's GUI is nothing but intuitive. It allows you to consciously manipulate the 4 osxillators for creating your own convoluted sound layers. Its 'simple-yet-powerful' ability to morph hi-cut, low-cut, pan and volume is absolutely lovely. Sample Logic made it easy to make your signature texture. S am looking forward to using XOSPHERE for my next project.
Sample Logic has once again forced me to rethink how I create music. XOSPHERE allows you to build complex sonic environments that bend the boundaries between music and sound design. It has claimed it's place as the next step forward in ambient music creation.
Moments into exp;oring XOSPHERE I found myself captured in a world of sonic inspiration. I was inspired to write music and that is what is what it's all about!
A serious competitor to Omnisphere, with a great interface and useful features. Powerful randomisation and tweakability mean you'll never be lost for the sound you want.
A very creative and usable instrument that should be essential buying for all producers.
XOSPHERE is a great product with an amazing sound quality and offers fantastic possibilities to play with.